Meet The Chef: Helen Nguyen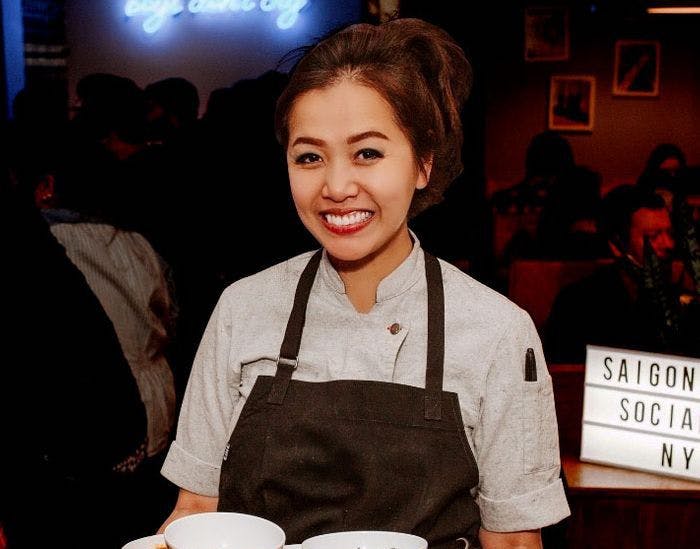 Even in a Pandemic, New York's Vietnamese Food Scene Is on the Rise
Saigon Social from Helen Nguyen is the Vietnamese spot we didn't even realize we craved.
Even as restaurants are getting socked by the realities of a beyond-challenging moment, the Lower East Side spot is shaping up as a star of New York City's ongoing Vietnamese food renaissance. It joins standouts like the chicken-centric Sai Gon Dep in Murray Hill; and in the East Village, the eclectic Van Da, as well as trendsetters like Hanoi House and Madame Vo that debuted in 2016.
Haven't been to Saigon Social yet? That's understandable, considering it only opened a couple of weeks before lockdown -- almost a year behind schedule due to Con Ed delays. "It's been a lot," says Nguyen. "And you know, there's still so much uncertainty and so many unknowns. I just feel like the only thing I can do is just really take it day by day."
There are several ways to try Nguyen's cooking -- at Saigon Social and beyond -- and many delicious reasons why you should.
At a time when we could all use a little something to look forward to, consider the Saigon Social pop-up on November 9 and 10, when Nguyen teams up with the folks at Bistrot Leo for a 5-course tasting menu called Bistrot Saigon; it will showcase the French influences you'd find in Vietnamese cuisine and French technique you'd expect from a Daniel alum. Nguyen also cameos homestyle influences of her brick and mortar spot: her takes on the central Vietnam dishes her mother made when she was growing up in California and Seattle.
Following a starter of Kumamoto oysters with a Vietnamese coriander vinaigrette, look for a Vietnamese take on beef tartare; butternut squash with salted egg yolk beurre blanc; and a play on marinated and cubed beef of Bò lúc lắc, "unshaken beef" (as opposed to the "shaken beef" the traditional dish is named for), served with black peppercorn sauce and a Vietnamese chimichurri.
What's the difference between the kind of dishes Nguyen grew up with on the West Coast and the New York City-style?
For one, newer waves of Vietnamese immigrants have settled out west, which means what's cooking at restaurants departs from the Vietnamese-Chinese hybrid that dominated restaurant menus in New York.
"Vietnamese cuisine in New York is wildly different in terms of perspective and outlook on what Vietnamese cuisine is supposed to look like and taste like," she says. Nguyen notes the East Coast-West Coast difference is "probably the underlying motivation for me to stay," in that "it wasn't anything like I tasted at home."
After a few years in New York, attending the Institute of Culinary Education, working for Boulud, and hosting pop-ups at Nom Wah, Nguyen saw the opportunity to introduce New Yorkers to regional Vietnamese dishes that display more fish sauce, caramelization, and savory notes. She cites her mother's go-to braises like catfish.
"What really sets it apart is how you caramelize and cook the fish," says Nguyen. With East-Coast style a bit lighter and more subtle, she leans toward a bolder, thicker braise. "It's sticky and it's almost like a gravy," she says.
Back at Saigon Social, you'll also find dishes like a super satisfying oxtail fried rice; a spicy Bún bò Huế, the beef noodles named for the central Vietnamese city; and grilled lemongrass pork, served with pickled veggies and a fried egg.
Saigon Social has been predominantly takeout as of late (she asks if you can to get it directly from the restaurant instead of DoorDash). But in a couple of weeks, Nguyen says she'll introduce socially distanced indoor dining, with 18 seats in the reconfigured dining room.
In the meantime, book a table for Bistro Saigon at Bistrot Leo (60 Thompson St.) for $79 per person; wine pairings are additional. Vegetarian options are available. Price does not include tax and tip -- and seating is limited.
-Melissa McCart